Attivato il sistema transponder con la ISS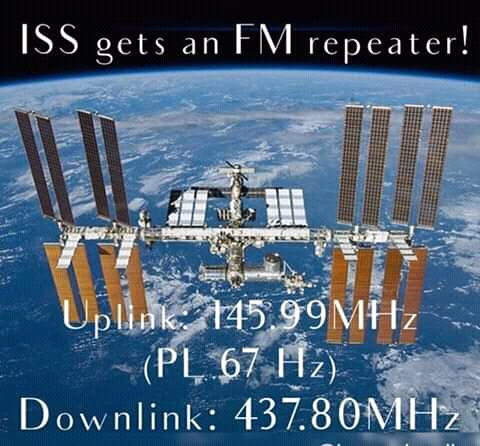 Da alcuni giorni è stato attivato un transponder in FM sulla Stazione Spaziale Internazionale (ISS). Questo è potuto avvenire grazie a una recente sostituzione degli apparati radio di bordo con sistemi di telecomunicazione destinati al traffico radioamatoriale più efficenti: si tratta dei Kenwood D710E e un Kenwood D710GA.
Tali ricetrasmettitori in seguito permetteranno anche di poter trasmettere immagini ad alta definizione ed altre modalità digitali, tutto destinato alla comunità radioamatoriale.
Il transponder ha l'uplink in VHF e il downlink in UHF. Arriva sulla terra abbastanza bene, si transita tranquillamente anche con una semplice antenna omnidirezionale e pochi watt; il doppler in UHF è tanto, ma basta spostarsi di qualche kHz, anche di 5 kHz per volta e si riceve molto bene.
Una volta tracciata la ISS, considerato che il tempo di acquisizione è di circa 15 minuti e con unico canale FM – a volte anche abbastanza affollato – il QSO si limita a scambiarsi il locator ed i saluti.
Le frequenze in uso sono (come riportato dal loro sito):
Voice and SSTV Downlink: 145.80 (Worldwide)
Voice Uplink: 144.49 for ITU Regions 2 and 3 (The Americas, and the Pacific and Southern Asia
Voice Uplink: 145.20 for ITU Region 1 (Europe, Russia and Africa)
VHF Packet Uplink and Downlink: 145.825 (Worldwide)
UHF Packet Uplink and Downlink: 437.550
VHF/UHF Repeater Uplink: 145.99 (Tono CTCSS 67 Hz)
VHF/UHF Repeater Downlink: 437.80
e i nominativi in uso sono:
Russian: RS0ISS
USA: NA1SS
European: DP0ISS, OR4ISS, IR0ISS
Packet Station Mailbox: RS0ISS-11 and RS0ISS-1
Val la pena di provare, la nostra voce ritrasmessa dallo spazio dall'antenna della ISS: un'esperienza unica ed esclusiva, solo e soltanto per i Radioamatori di tutto il mondo!